It was evidently a huge weight off of Richarlison's shoulders when the ball hit the back of the net after his 98th minute header against Sheffield United.
The Tottenham striker had been brave enough to admit during the preceeding week that he'd been suffering from mental health issues and that had been affecting his game.
Fortunately for the Brazilian, he has a manager in Ange Postecoglou who just 'gets it.'
"Footballers are not immune from that"

Ange Postecoglou insists Richarlison will receive all the support he needs after the Tottenham forward said he would seek help from a psychologist. pic.twitter.com/tPoUMlu6Fi

— Sky Sports Premier League (@SkySportsPL) September 15, 2023
So often nowadays any mention of 'mental health' has companies running for cover, and some just don't deal with it appropriately.
Former 'super agent' Jon Smith believes that Richarlison will, in the end, be ok, however, as someone whose been around football circles for many, many years, Smith also thinks football as a business needs to do more to be helping people that are suffering.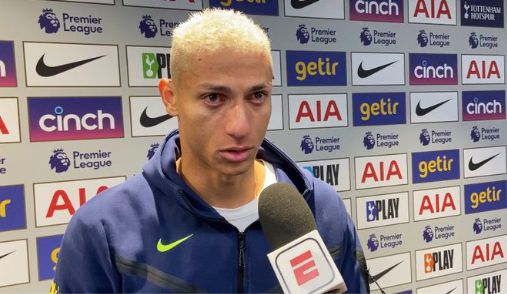 'Society has the same questions as football to ask itself,' he wrote in his exclusive CaughtOffside column.
'Many, many people have mental issues. Not mental problems, but mental issues.
'[…] In the real world, people have childhood issues that leave a memory and a scar, and which will have an effect on them for all of their days. In most cases people manage it, but it's there.
'These are amplified when they are on a public stage, so fast forward to being a famous footballer and you have millions of people watching you around the world and maybe you're not feeling it.
'[…] I genuinely feel that Richarlison will be absolutely fine but let's give him oxygen to breathe for a little while.
For far too long now, the notion that people with money shouldn't be moaning about their lives is a misguided one at best.
The old cliche that money doesn't buy happiness is as true now as it ever was.
If there's something in a player's private life that is causing them stress and anxiety, it's blindingly obvious that it's going to affect them on a Saturday and Sunday afternoon.
It was a brave step that Richarlison took and if more players are prepared to open up, perhaps it will no longer be so much of a stigma.