Eddie Nketiah is now Arsenal's top scorer in all competitions, and his goal-scoring heroics in the win over Manchester United just further underlie his importance. Mikel Arteta has always known what he's capable of, and let's not forget, even before Gabriel Jesus arrived and subsequently got injured, Nketiah was in fine form last season, scoring five goals in seven Premier League appearances towards the end of the campaign. Arteta was keen to persuade Nketiah to stay, and it's no coincidence that after signing that new deal he was handed the famous no.14 shirt at Arsenal, worn by the likes of Thierry Henry, Theo Walcott and Pierre-Emerick Aubameyang. You just don't get that shirt unless you're seen as integral.
Still, Nketiah was quite close to leaving Arsenal at one point. There was firm interest from Crystal Palace, and from outside the Premier League from Bayer Leverkusen, who considered making an offer. Nketiah didn't just have doubts about game time, although that was always going to be a factor, but last season he played a lot and that gave him firm belief in his abilities as a starter. When a player gets into the team regularly and they feel they're at their peak, but they have doubts if they'll play week in, week out, it can lead to them assessing their options. This is where Arteta stepped in and gave Nketiah clear and direct assurances about his role, and made him feel highly appreciated. For Nketiah prior to the end of last season and before now, maybe he did always feel a bit like a backup, he was behind Aubameyang and Lacazette until they stopped scoring freely, and even when he was on loan at Leeds he spent a lot of time on the bench. Before Nketiah signed, Arteta directly made him feel, once again, very much part of the Arsenal family, and he underlined that Nketiah would be getting more game time. Of course Gabriel Jesus' injury helped, as before that Nketiah still featured largely from the bench, but what Arteta did was make it clear to Nketiah that, whether he was starting or on the bench, he could force his way into the side.
The fact that Arteta told Nketiah before the start of the season, that he could get into the team if he played well, is very interesting, because now we're going to see if there's substance to that – when Jesus is fit it's going to be very hard for him to walk back into the team. If Nketiah keeps up this form and Arteta is true to his word, then he can be a starter rather than just a squad player.
It's also worth pointing out that Nketiah and Jesus are very different players – Nketiah is well ahead of Jesus in terms of goal-scoring, he's Arsenal's top scorer with nine goals in all competitions, whereas Jesus had been on a run of eleven games without a goal going back to October and that 3-1 home win over Spurs. Whereas Jesus is averaging a goal around every 300 minutes, Nketiah is scoring around every 150 minutes. But if you flip it the other way, Jesus offers more than just a goal threat – he drops deeper, he drifts into wide areas, whereas Nketiah is more of a poacher, which tends to lead to simpler finishes and easier goals, though just as valuable ones of course. Jesus has got six assists on top of his goals and tends to create more chances, so going forwards it's just about the kind of player Arteta was. Still, it's clear now that Nketiah is more than just a backup, and if he'd thought that before the start of the season he'd have been off for sure.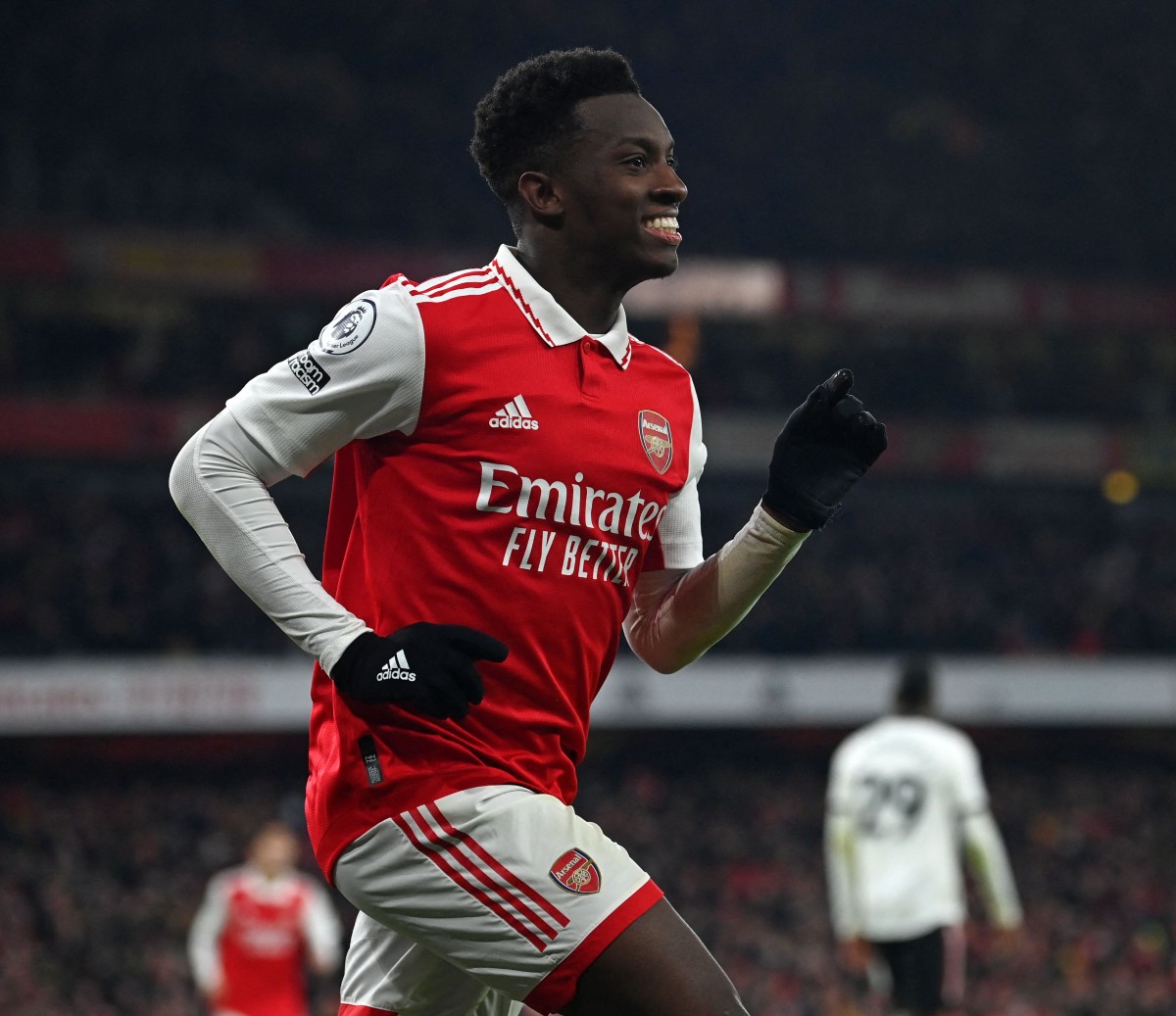 I think Arsenal have looked in the past at more old-fashioned centre-forwards, there's history in their pursuit of Dusan Vlahovic last January, but when Jesus got injured, there was no panic at Arsenal, they stuck largely to their targets and tried to manipulate the market in terms of value and long-term quality that suited them. The Leandro Trossard addition is useful – he's not an out-and-out, like-for-like replacement for Jesus, but then nor is Nketiah; Jesus being injured gives Nketiah a chance, but they're different players, and it's clear Arteta wants someone like Nketiah that he can use around the box, but it's also clear that Arsenal have a philosophy around more versatile players, who can drop deep and drift wide, and Trossard fits in with that – he can play a variety of positions, and that's why Arteta wanted Mykhaylo Mudryk, because he's a wide player who has potential to develop as someone who can operate in the middle as well.
There are also players Arsenal have been linked with that indicate this philosophy, players we know are not out-and-out forwards, like their long-standing interest in Raphinha, and Moussa Diaby has crept onto the radar as well. Arteta likes movement and versatility, and there's maybe the feeling that a more defined striker can slow you down and make you a bit more predictable. Arsenal have had players like that who've done well before, but things are changing now, and the way Arteta's playing is more fluid, so if we make the comparison to, say, Manchester United: they went for Wout Weghorst, who's a big, clinical centre-forward, and that sort of player is not necessarily in Arteta's thinking, even with Jesus out. I think Nketiah has been given an opportunity because of what he did last season, because of what he's contributed from the bench, and because Arteta knows and trusts him. I think Arsenal feel they've now got enough cover for Jesus, especially with Trossard coming in, to wait for the Brazilian to come back and use Nketiah in his position, but offering very different qualities.
The most important thing for Arsenal at the moment is to keep this squad ticking over, instead of bringing in too many different kinds of players that could rock the boat a bit and the momentum that they've got at the moment.
Chelsea will definitely be thinking about outgoings towards the end of the January transfer window, but there is perhaps less urgency than there would be if everyone was fit right now. Of course Chelsea would like to sell for financial reasons after their spending, and also to reduce their wage bill, but they also have to be conscious in certain positions that they do have an injury crisis.
Specifically, if we're talking about midfielders, they haven't yet signed a central midfielder, so they have to balance the fact that summer is going to give them more time and ability to get them more value, too.
Still, there could be opportunities because of the size of their squad. Hakim Ziyech is one who is available, and Chelsea could try to cash in on the back of his excellent World Cup with Morocco. In many ways it would be a shame if he didn't get the chance to show what he can do at Chelsea, because he can offer something very different from the other wingers at the club. He showed that with Morocco, where he wasn't just a goal-scorer and creator, he was also somebody who tracked back and defended resolutely, and showed leadership too. Chelsea definitely appreciate leadership, especially at this stage of the season with a lot of young players being thrust into the starting line up. But Ziyech can still command a relatively healthy transfer fee, and a sale or loan gets him off their wage bill. From Ziyech's perspective, he'd love a move back to Ajax, but their manager Alfred Schreuder has ruled that out, Milan's interest has cooled as well, so it's Roma or Newcastle who are the clubs to watch. Newcastle like the player but there's a concern about his wages – they're reluctant at this point in the season to match Champions League-style wages and also don't want to bring in too many high earners in case it causes squad unrest. Still, they like the player so it can't be discounted, either on loan or in a permanent deal. Chelsea would ideally like to recoup a lot of what they paid for Ziyech, which was around £33m.
Christian Pulisic is technically available on the market, though Graham Potter has said on the record that he won't leave in January, and the fact that he got injured until February doesn't help matters. Like Ziyech, he had a strong World Cup and that could change Potter's thinking. Pulisic didn't desperately enjoy working under Thomas Tuchel, so a fit Pulisic under a new manager might be able to shine at Chelsea. It could be that this injury will prove a blessing in disguise for Chelsea, because it gives them more time between now and the end of the season to see if they can get the best out of Pulisic. There are admirers of course, Newcastle and Manchester United enquired about him in the summer, with the latter quite keen on a loan, but I've always been told that Serie A is the more likely destination for Pulisic. Juventus have considered him in the past and he even spoke to Weston McKennie about the club, and more recently AC Milan have been linked as well. But we're looking at a summer exit if Potter is true to his word.
Chelsea could also be tempted to loan out Conor Gallagher, depending on what happens in central midfield in the coming days. Clubs like Crystal Palace, where he was on loan last season, and, again, Newcastle, would both be interested in Gallagher, so we'll have to wait and see based on Chelsea's own movements in the market. The club have indicated they're against a sale, but that could be tested if they were to receive an offer in the region of £35-40m. It's one to watch in the final few days of the market, because if Chelsea can get a midfielder in, someone might try a concrete late move for Gallagher, and then Chelsea, unlike last summer, could be tempted to do business there.
With N'Golo Kante, from the messages I'm receiving, his preference has always been to stay at Chelsea, and contract talks are suddenly moving in quite a positive direction. It previously looked quite unlikely, and like Chelsea would lose him on a free transfer in the summer, and Kante obviously wouldn't be short of options as a free agent, but we shouldn't underestimate that Kante is very settled – he's a humble player, not a greedy player, not confrontational in the manner that he and his agent negotiate. He thinks a lot about his work-life balance, and he's very happy at Chelsea, likes life in London, and that's all going to help Chelsea. He's also very invested in this new project and being a leader within it, so that all adds up now to the player being willing to accept a new deal on a smaller wage. This is all very helpful to Chelsea, because they want him to re-sign, and it's a shame in many ways that he's injured at the moment, because the best way to get the deal he wants is to be fit and playing and integral, but it's all moving in a positive direction, so it wouldn't surprise me now if an extension was agreed after the January transfer window closes.
With Jorginho it's a slightly different matter, because although his agent says the priority is to renew with Chelsea, there is a feeling within the club that he may leave and that a return to Napoli is not impossible. Although it might seem sensible to keep both Jorginho and Kante, because they've got injuries and haven't yet signed someone yet in that area, the ownership do what to reduce the wage bill and the average age of the squad. Even if it doesn't happen in the net few days, the club do expect to add a couple more midfielders, which may mean it becomes in the interest of all parties to lose Jorginho. That is a reflection, I suppose, of the forward planning of the club ahead of the summer, as opposed to judging the situation only now, because of course based on what's happening now – Jorginho's playing, he's got the captain's armband, and you could make the argument that letting him go in the summer would be unwise, but in the summer Chelsea's midfield is going to look a whole lot different, so if Enzo Fernandez or Moises Caicedo arrive, then there comes a scenario when Jorginho falls down the pecking order, having renewed on high wages in his 30s, and with the club having already done the same with Kante, then it might be a little counter-productive to the direction the ownership want to move in. So it could help if there was some indication or Jorginho being willing to bend on the wages and length of contract, but at the moment that situation is not looking as positive as with Kante.
Erling Haaland is only just getting going at Manchester City, he's not even thinking about moving away. It's funny how when a player performs well we quickly get transfer rumours linking them with another club, but the reality is that he's new at Man City and it's almost farcical that there is any suggestion an exit plan or another suitor coming in at this point. Haaland is fully focused on winning trophies, on breaking records, he's already got four hat-tricks, and 25 goals in only 19 Premier League starts – more than any Golden Boot winner since Mohamed Salah in 2017/18 when he scored 32.
His dad Alfie's connection with City, and the manner in which he was forced to retire after that horrific Roy Keane challenge, arguably gives him even more reasons to enjoy a long and successful spell at the club, because there's a sentimental aspect at play here as well.
The more he succeeds, of course the more interest he'll attract, but it's not true that there's a Real Madrid-specific release clause, and Pep Guardiola has gone on record denying this. In fact, there's no active release clause in his contract, though things will change a little in the summer of 2024 when a €200m release clause starts to kick in, and it can only be triggered by non-Premier League clubs. This will also decrease the longer Haaland stays at Manchester City, but the clause doesn't mean a great deal – if anyone outside the Premier League wishes to trigger it, they'd still ideally not want to match its terms. Even if they were prepared to meet the value and Haaland really wanted to go, but in that situation City would probably just negotiate anyway, though we're so far from that scenario that it almost feels laughable to discuss it.
If things go according to plan, City would also likely offer Haaland new terms further down the line, again making any 2024 release clause fairly redundant. So, the thing to reiterate here is that Haaland is loving life at City and thriving, so even if it's true that non-Premier League clubs in 2024 could have the option, release clauses are usually so high, and paid in lump sums as well, which is not preferable to a suitor, it becomes relatively unlikely, if not impossible, for any club on the planet to trigger that release clause even if they wanted to, they would have to negotiate another way. And even if a suitor came in they wouldn't just have to pay that clause, if they're outside the Premier League, they'd also have to match or better Haaland's wages, so Real Madrid would struggle to do that, it's probably only PSG who could afford Haaland if you factor in wages and fee.
Regardless, the player is happy and committed to Man City right now. The clause is just a formality really, he moved from Dortmund where there was also a release clause, and from the players side there's no real prediction as to how they're going to perform. When players join they tend to ask for a release clause as it gives them an out if they want to move on, and the clubs can protect the player's value, so it's a mutual thing. There's never any harm having a clause there, because you never know what's going to happen in two or three years' time, it's just an act of due diligence to discuss that. City obviously knew straight away that they had a phenomenal talent, and that if the player continually scores, there's always a chance that another suitor might come in, so City were smart in a sense to protect the value of the player further down the line, come what may. They don't have to worry about clubs coming in and offering something below their valuation, because they've got a number there that's going to ward off a variety of suitors, so it's very much a mutual process between the player and the club, it's in no way an indication that he's going to have a short stay at City, or that Haaland is thinking about a future move away.
What's going to be interesting with this particular valuation is just how close the clause ends up being to Haaland's actual fair market valuation in 2024; because when he joined if you'd have said €200m I think most people would've thought that's incredibly high, but because of the way the market is moving at the moment, the money teams are spending, and the form that Haaland's in, how close will that be by the summer of 2024? He might not be far off being a €200m player!
With less than a week to go, I thought I'd look at some of the biggest winners and losers of the window so far, though a lot can still change!
To start with, although Chelsea have been the biggest spenders I don't think we can quite call them the biggest winners. It's been a wild January and the owners have certainly shown tremendous ambition, and everything they're doing is part of a long-term vision and it's going to take some time to build. There may be some mocking of Todd Boehly right now, but he will, in all likelihood, have the last laugh. You can't make an omelette without breaking a few eggs and that's what's going on at the moment – they're moving fast and chaotically in the final few days of the window, but there is a plan there and I think we'll start to see that take shape in the next two or three windows.
The reason I say they're not the biggest winners, though, is that when the window opened they knew they needed a right-back and a central midfielder, and at the time of writing, they haven't got either. They've added some fine talents, and Joao Felix and Mykhaylo Mudryk in particular look like outstanding signings and real statements by the club, while Benoit Badiashile has also been excellent since joining from Monaco, but despite that two priority positions still haven't been filled. We'll have to watch and see if Chelsea can get Malo Gusto or potentially even Pedro Porro – Spurs certainly know that a hijack isn't impossible. And if they were to pull off moves for Enzo Fernandez or Moises Caicedo, then it becomes an 11 out of 10 window and they become the biggest winners.
But right now, they need to focus on trying to get one or two more over the line, and I think that Gusto is the one to watch; the player wants the move. And what's interesting about this deal is that Chelsea are no longer just dealing with Jean-Michel Aulas at Lyon, a notoriously tough negotiator, they also have to negotiate with John Textor. When he came in he made it clear that he felt Lyon should be rivalling PSG, and he doesn't want them to be known as a selling club, so to stick to that philosophy they'll have to hang on to their best players. Chelsea will probably have to pretty much double their original offer to get a deal done – I'm told something like €35-40m could well be necessary in order to get that one over the line. Textor is quite bullish about Lyon's identity and about their young players. When Lucas Paqueta joined West Ham, the takeover was still in the final stages, and from what I understand, he was quite frustrated that Paqueta was sold, because he wanted to keep the core of the quality in this squad. It'll be interesting to see how Chelsea fare against this, though on their side they're relatively optimistic. If they can get this done, they would then focus on a new central midfielder before the window shuts, so they're going to be quite active until the final seconds of the window, for sure.
Arsenal have had a very decent window, albeit in a slightly lower key way than Chelsea. They've done some smart business, sticking to their valuation with Mudryk, which is just their strategy, a very different one from Chelsea, but there's less urgency required because they're further along in their project. Leandro Trossard was a really shrewd signing at a bargain price, and Jakub Kiwior is a composed and progressive defender who looks a good fit at Arsenal. Now it's about Ivan Fresneda – if Arsenal can beat Dortmund to his signature they'll be delighted with this window, even though they missed out on Mudryk.
I think Bournemouth deserve huge credit. Their new owner Bill Foley has come in and made a couple of excellent additions – Dango Ouattarra has come in from Lorient, where Foley also owns 30%, and he looked really lively on his debut, picking up an assist. And also Nico Jackson has come in, he's a Senegalese forward who'll join from Villarreal, and that'll be announced soon.
In terms of the biggest losers, I think we have to mention Everton. They will be extremely disappointed with everything about January – failed signings, possible outgoings, and of course the form on the pitch that led to the sacking of Frank Lampard.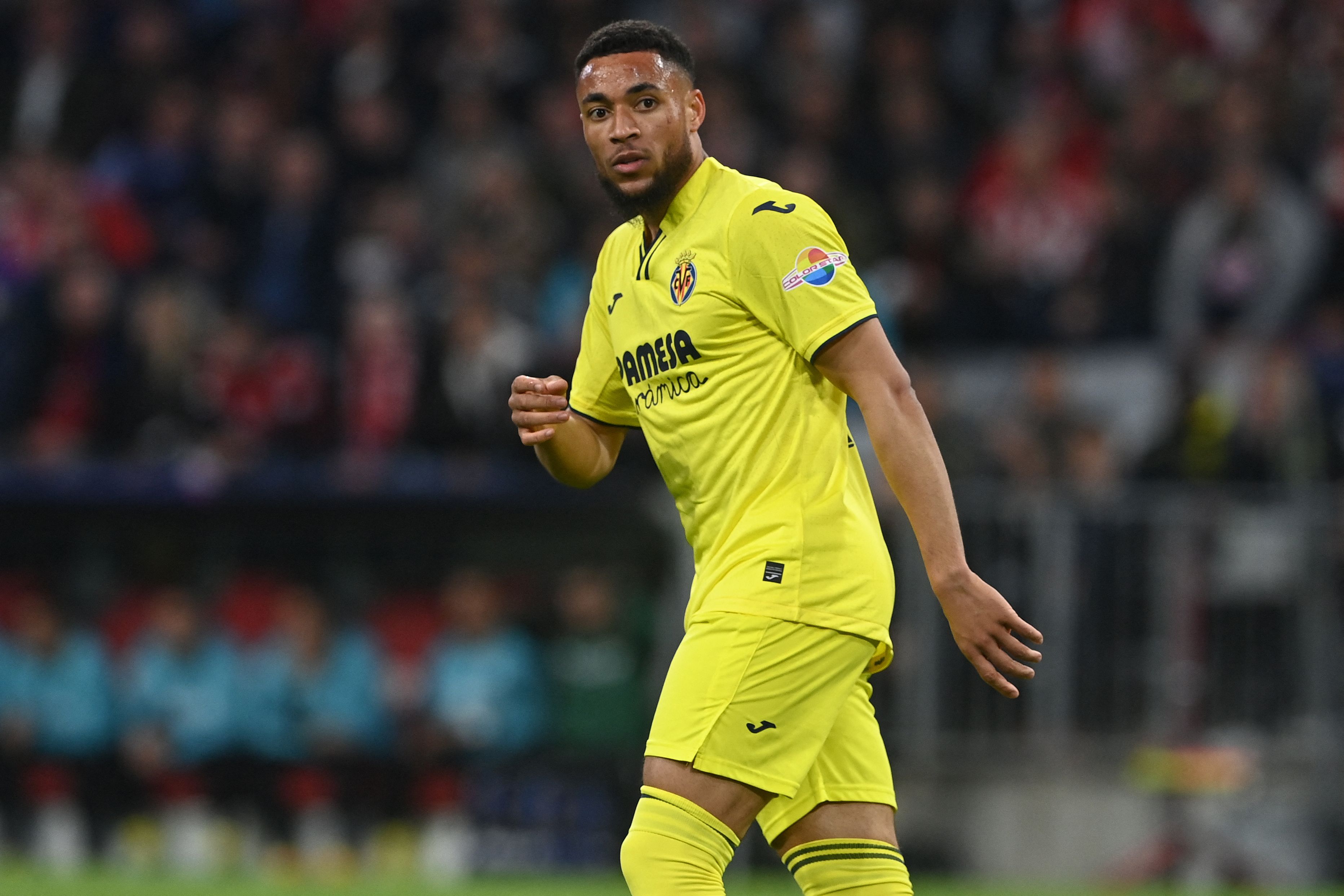 They thought they'd signed the Dutch winger Arnaut Danjuma from Villarreal – he'd done a medical, a club photoshoot, and, believe it or not, there was even an announcement video ready to go yesterday, and yet he didn't on Tuesday turn up for training. The paperwork hadn't all been completed, an offer came in from Spurs, and he decided to drive to London for a medical. He then passed that and will now join Tottenham – it's an 11th hour hijack and Everton were not at all happy about it. I'm sure Danjuma will be in for a frosty reception when he goes to Goodison Park with Spurs in April.
But it's not just the Danjuma deal – Everton are struggling to hang on to a few players. They could very well lose Anthony Gordon, most likely to Newcastle. Chelsea have got a historical interest in Gordon but they've not yet placed a bid, whereas Newcastle are pushing, and have already made an offer, and are in what I think can now be termed quite advanced talks to get this over the line, and Gordon wants the move as well. There's a question mark about Amadou Onana as well, which would be an almost unthinkable transfer because he only joined over the summer.
The final two clubs to keep an eye out on over the course of the last week are Leicester and Leeds.
Leeds United are very keen on Weston McKennie. Jesse Marsch knows him well, and the reason they want to get him in is because of how effectively he's played with Tyler Adams for the US Men's National Team – they know each other very well and Marsch thinks there's evidence that those two could work together very strongly. McKennie is very open to joining Leeds, but other clubs also looked at him over the summer and earlier this January. Spurs thought about a loan, Chelsea had him on their radar for a bit and were quite impressed by his versatility, and Aston Villa also made an enquiry but McKennie wasn't particularly keen. Some outlets have also mentioned Arsenal but I'm told there's not very much in the links between McKennie and Arsenal just yet. At the time of writing they haven't made any direct contact with Juventus.
Leeds are in the strongest position at the moment, they've got buy-in from McKennie to join, so it's about agreeing a fee with Juventus – something in the region of €20m has been reported in the past, but I've been told pretty consistently that Juventus want €30m or more, so Leeds have to meet their valuation or find a different solution to get a deal done. Juve are adamant they won't be selling players on cut-price deals even with their current 15-point deduction for capital gains violations (and with future punishments potentially still to come), they're sticking with their position that they don't need a player exodus, so Leeds will have to agree a price, and quickly as well because there are other suitors monitoring that situation.
Leeds are still in for Azzedine Ounahi as well, and to be honest I'm surprised after the World Cup that he's still at Angers as they struggle in Ligue 1. The player was so impressive in Qatar, but for whatever reason, despite three or four offers, this one is going right down to the wire, but as things stand Leeds are still there.
Leicester, who have also explored Ounahi, could also have a busy end to the window – Brendan Rodgers would love a centre half and a right winger if possible. Their finances are by no means perfect, but they have a bit of ability to spend in the market because of the Wesley Fofana fee from last summer, which was paid to them on quite preferable terms from Chelsea, so they can use some of that money to bring in one or two more players. One of Leicester's biggest frustrations from the summer, though, is their failure to sign Ademola Lookman following his loan spell at the King Power from Leipzig. He's gone to Atalanta and is tearing it up, scoring 11 goals in 18 Serie A games – how Leicester could do with that kind of prolific, creative scorer and assister. So, a player like that is an option for Leicester, though probably on the right not left wing. Stoke defender Harry Souttar is another one to keep an eye on before the window shuts, and of course Leicester will be very pleased with their window if they see February the 1st come in if James Maddison and Youri Tielemans are both still at the club – it was always their plan to keep them and at the moment they're confident of doing that. They're seen as integral to keeping Leicester out of trouble, even if it still potentially means losing them in the summer. The most important thing for the club is to stay up, so it could be more valuable to keep those two players rather than cash in on them now. Right now, their resolve to keep both hasn't been tested… but there's still a week left for late drama!